You know something big has happened in sport when everyone's consulting the rulebook.
That was the case on Sunday night as cricket fans were left stunned by Michael Neser's aerial antics – and the decision of the umpires at the Gabba – in the Brisbane Heat's win over the Sydney Sixers.
It was late in the Sixers' chase of a huge total when Jordan Silk sent the ball careening towards the boundary, where Neser was placed deep.
Watch BBL12. Every game live and ad-break free during play on Kayo. New to Kayo? Start your free trial now >
He first made contact with the ball in play, throwing it up in the air to try and save the wicket and not concede a six.
But he had to step out of bounds, and was several metres outside of the boundary when he jumped in the air and again made contact with the ball – but critically threw it into the air again before making contact with the ground.
He then ran back in-bounds and completed the catch, leaving the Sixers sure it was a six and Neser sure it was a wicket. A review proved Neser was correct.
It was the second time the Heat had used the rule, 19.4.2 under the MCC Laws of Cricket, in recent years.
"The ball in play is to be regarded as being grounded beyond the boundary if
– a fielder, grounded beyond the boundary as in 19.5, touches the ball;
– a fielder, after catching the ball within the boundary, becomes grounded beyond the boundary while in contact with the ball, before completing the catch."
Neser was not considered grounded beyond the boundary (despite making contact with the ball having jumped from beyond the boundary) because his first contact with the ball was in play.
"He wasn't touching the ball when he touched the ball outside. I mean, jeez," Adam Gilchrist said on Fox Cricket.
Mark Howard replied: "So you tell me you can just continue to juggle it through the entire boundary, do three laps?"
The decision, while correct by the letter of the law, left cricket fans stunned.
"I knew (Matt) Renshaw did it a couple of years ago. I didn't know if they'd changed the rules and thankfully they didn't change the rules," Neser said.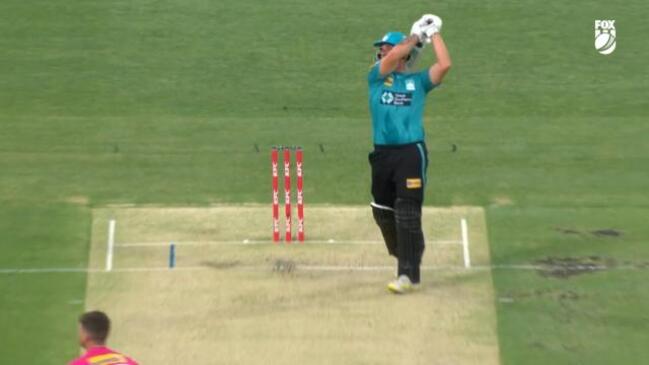 Originally published as 'Most stupid rule in any sport, ever': Cricket world floored as Neser's aerial antics produce wicket
Read related topics:
BrisbaneSydney