Mark Waugh believes it's time for the ICC to review rules around light and when to suspend play.
On day one at the SCG, players came from the field during the drinks break mid-way through the afternoon session.
Weather forecasts have for days predicted the Sydney Test would once again be rain-affected, but when bad light was called, it was some 40 minutes before rain started to fall in Moore Park.
Speaking during the delay, Mark Waugh said he believed it was time for the rules to change,
"Once the lights are on, we stay on. It's as simple as that," he said on Fox Sports..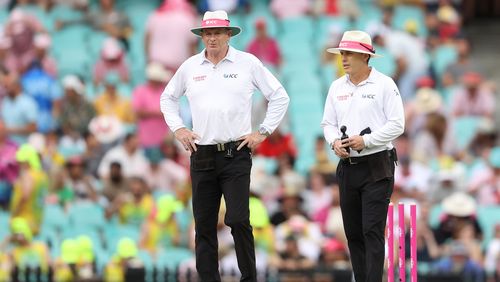 "I really don't understand – if it was the pink ball, we'd be on there. Red ball, OK it's not perfect but it's an outdoor sport. Sometimes the light favours one side over the other."
After scoring just 63 runs in the first session, Marnus Labuschagne and Usman Khawaja put on 75 in the hour between lunch and light being called.
"(The) ICC need to look at the crowd here, there's what 30,000 people here, did Australia look like they couldn't see the ball when they were batting? I think they saw it OK," Waugh said.
Waugh said it was possible rules could be changed to allow umpires to substitute a pink ball during bad light, but doubted the ICC would make such a radical change.
"Cricket has a lot of tradition and history, and we don't like to change things too often … so I can imagine if they're not going to stay on when the lights are on, they're not going to change the ball," he said.